Moira Nelson
Harp, Voice, Piano, Classical Guitar, Composition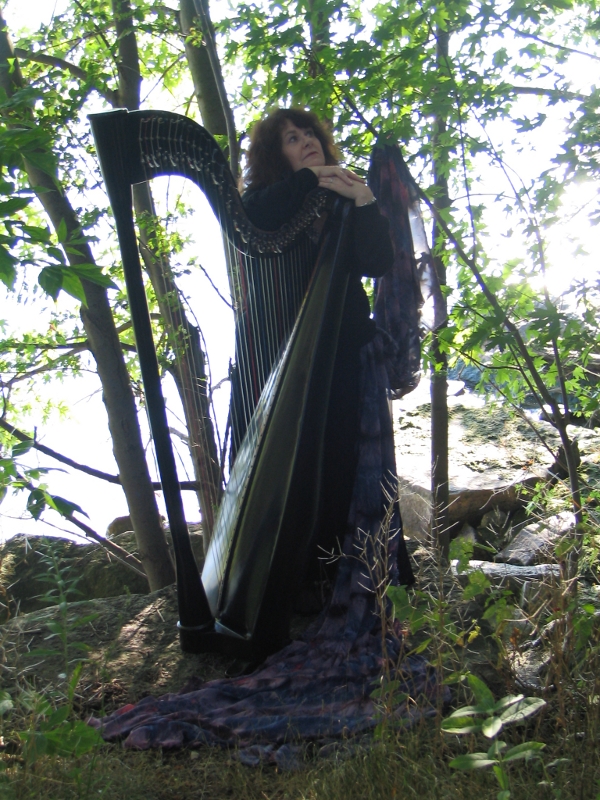 Born in London, England, Moira moved to Toronto as a child and began her musical education with piano lessons at the Royal Conservatory of Music. By the age of twelve she had passed her Grade 10 piano examination and was performing her own compositions at concerts and recitals. Her studies broadened to include harmony, composition, voice and classical guitar.
Still in high school, Moira made her professional debut as a pianist with a jazz quartet. A chance encounter during a vacation in England led to extensive appearances in and around London where she worked as a soloist, playing guitar and singing Celtic and traditional music along with her own original songs.
Later, Moira began playing the harp, an instrument she had always dreamed of mastering. She now plays a a 36-string "Enchantress" lever harp, which was custom designed and built for her by "MLC Design"
An accomplished and versatile artist, Moira's busy schedule includes concert and studio work in addition to private and corporate functions. Recently, Moira released her third CD, "Echoes of Another Time", a colaboration with Elena Jubinville. Her second CD, "After the Fall", with Elena Jubinville, Kathryn Moses and Rick Lazar was released in 2001. Moira's first album, "Time Calls My Name", features many of her own compositions and has received excellent reviews. Selections from all three albums have received international airplay. Moira's harp composition "Moonfyre", appears on a compilation CD released in Italy by "Keltica".
For more information please contact Moira Nelson via e-mail or telephone


moiranelson@bell.net

(416) 255-5109 or (416) 554-7109 (mobile)
(416) 255-5109 or (416) 554-7109 (mobile)